Hi Dusseldor team.

I have discovered some bugs. In GT8S and GT8SU there's a battery button bug on the dashboard. When i click the battery or (A) button it doesn't light up. The only button that lights up is the one that turns battery power unit off. When clicking one that turns the power unit on it that button doesn't light up.
Second bug i noticed is the indoor advertisement place or what ever it's called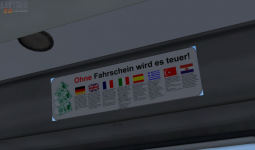 You can see those holes on the edges.
The rollband on the display doesn't "roll" when changing the destination. It only appears without any animations.

And another bug i noticed is with wheel sounds. When going over rail crossings or junctions there's no sound of wheels going over them. The same goes with other vehicles in the addon. IDK If it's implemented yet or not but i saw videos on youtube that has these sounds. I don't have them.
OK these are the bugs i noticed.