1. Please describe as detailed as possible what you did and which problem that leads to.
When I open the Content Tool, it starts up, even connects to the server. But if I click on the "Objects and vehicles" button, it freezes. It doesn't react to anything (closing, clicking on other elements).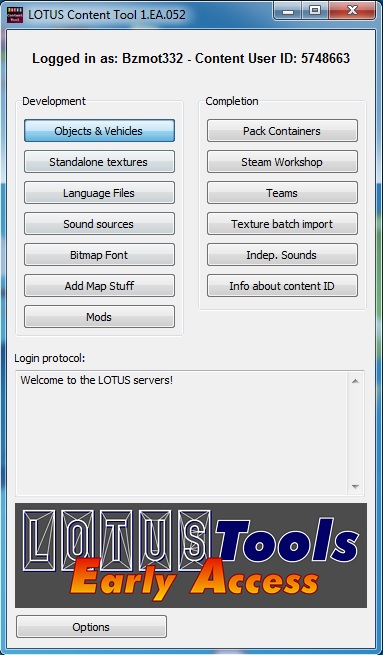 On the other hand, the standalone texture part is working.
I wanted to print the log informations, but it seems like the LOTUS itself doesn't work either. It starts loading, but it stops at the "Initializing scene..." point.
In the steam I checked the local files, it doesn't give any errors about it.
2. Please post your logfile and if possible attach your debug logfile, as well, which have been created during the problem occured.
(Logfile, Content tool logfile, directory file).
3. If it is a performance or another possibly hardware-related problem, please post your system information. Those are:
Windows 7 64bit
Processor clock rate: 3.2GHz
Processor cores: 4
RAM: 16GB
Type of hard drive (HDD)
Desktop computer
nVidia GTX960
4GB VRAM
GPU clock rate
OpenGL version (see LOTUS logfile) -> doesn't get to it
EDIT:
After restarting the computer it looks like everything works just fine. Besides possible software/hardwere problems with my computer, what else could cause such a problem?