You want to buy the Dusseldorf AddOn?
This
is the way to the Steam Store!
Projekt Tram Düsseldorf
Du wolltest schon immer einmal in den 1980er Jahren mit der Straßenbahn quer durch Düsseldorf fahren? Durch enge Straßen, entlang des Tausendfüßlers, über die Oberkassler-Brücke, bis nach Oberkassel?
Oder ist Dir das Straßengetümmel zu anstrengend? Dann ist vielleicht die Fernbahnlinie 76 mit der Überlandstrecke nach Krefeld etwas für Dich. Natürlich nur stilecht mit einem kühlen Getränk und einer warmen Mahlzeit im Speisewagen.
Das Ganze wird im AddOn Düsseldorf erfahrbar, und zwar mit liebevoll gestalteten Fahrzeugen aus den 1950er bis 1980er Jahren...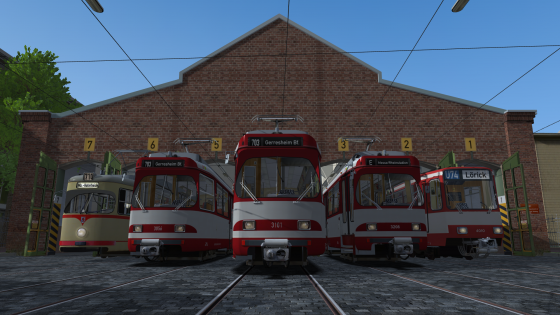 Viele weitere Bilder, Informationen und unseren Entwicklungsfortschritt findet Ihr in unserem Blog.
Go to the official blog of the addon: Click me!
Go the the official forum of the addon: Click me, too!
Go to the 360°-Screenshots: Mobile view | Classical view.